If you are looking for a job or business opportunities working with core companies in Electrical, Mechanical or Civil Engineering, I am sharing top 100+ core company names.
Also writing my view- how can you make the best use of this company list for the betterment of your career, after the list. (So, do read this article completely.)
This list includes major companies (not all, there are many more companies) working in the core domain.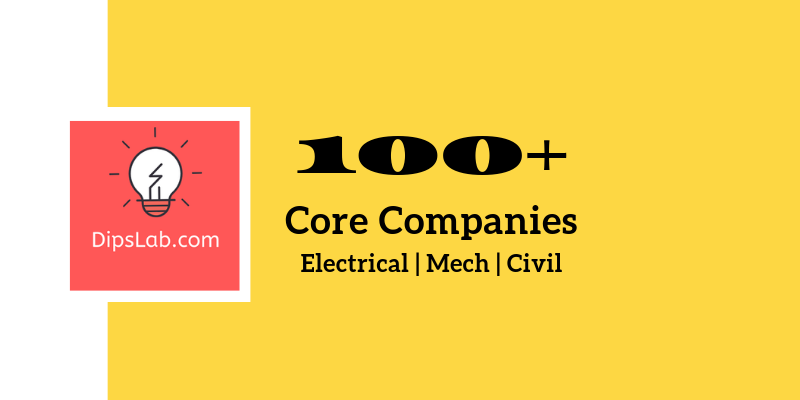 List of  Top Core Electrical Engineering Companies [Electrical, Mechanical and Civil Engineering]
ABB
Aditya
Amco
Bosch
Caterpillar
Federal-Mogul Corporation
Doosan
Bhuler
Toyota Boshoku Corporation
Toyota
L&t Hydraulics
L&T Construction
L&T Komatso
Fanuc India
BFW
Karmobiles
Triveni
Tafe
Fair tech
Quest global
Cummins
Schinder electric
TDPS
Suprajit Engineering Ltd corporate office
Volvo
Weir Minerals
Kenna metal
Komet group
Ashoka Leyland
Mahendra
Tata
Essar
BGR energy system
Toyota Kirloskar
Honeywell automation
Innovate minds
Altair
ENIT
LINCOLN HELIOS
AREVA T&D
Hindustan turbomachinery ltd
Promac Engineering Industries Limited
Nauvata Engineering Pvt Ltd
GERB vibration control system
Dubaspower
infotech enterprise
ITC
Konar Engineering Services
Moog Inc. (Aerospace and defense company)
SKF Manufacturing company
Siemens Automation company
Varman Aviation
Milltech Machinery
Turbo Tech
Paloma Turning Company Private Limited
Avasarala technologies ltd
Tyco Fire and Security
Tyco Electronics
Macmet
STANDARD ELECTRO MECH HOIST & CO
RANAL Engineering
Dantal Hydraulics
Baehal
Harita
Aeronautical Development Agency- ADA (Aircraft manufacturer)
Good rich
Sansera Engineering
Dhio
Kinetix Engineering & Consultation
San Engineering and Locomotive Co. Ltd.
Wiproinfra
Disa India
AK Aerotek
Indus aviation
MICO
REVA
TVS motor
VST TILLERS TRACTORS LTD
VI ENGINEERING PVT LTD
Unicorn power
NV Dynamics
Taneja aerospace and aviation
Air works
Tesscorn
VALDEL engineers and construction
Dover Corporation (Conglomerate Company)
Tantra Infosolutions Pvt Ltd.
SIDIN CORE-TECH PVT LTD
Grindwell Norton Ltd.
Cadestech
Impact Engineering Solutions
Sansera Engineering
GROWELL CNC
SANDSTORM
KPIT: Technology Consulting, IT Services & Product Engineering
JOHN CRANE INDIA
Rotork
SFO Technologies Pvt. Ltd.
Ranka steels
Guhring
TaeguTec
Note: These companies are listed randomly. And they are not sorted by any means.
All the above core electrical engineering companies are present in Bangalore and other metro cities in India. Most of the listed companies are multinational so you can find them in other countries as well.
How Can You Make the Best Use of this List of Core Companies?
Are You Searching for Jobs?
Search these company names on Google to find the addresses of these companies in your city.  Find the career page of those companies and submit your resume.
For most of the companies, to submit the resume, you need to make your account and profile.
You can also visit these companies (preferably if it is near to your place) directly to submit your CV.
They might ask you for your email so that they can inform you for the future job opportunities and openings.
Do You Have a Business Proposal?
Search the company name on Google and visit their homepage.
In about or contact page, you can find their email address. Send your proposal.
For betterment, it is always preferred visiting the company for the proposal. Take the appointment before you go.
Final Word- Need Your Help.
If you are Electrical, Mechanical or Civil engineering, find this company list useful for you. And also, share it with your friends.
I have collected and listed these core electrical engineering companies to help others in our domain. Now, I need a little help from each one of you.
If you are working in any of these companies, please share your reviews and experience. I am sure it will add value to other job seekers.
Also, let me know if there are any other good companies deserve attention on the list.
Let's Help Each Other to Grow!
Myself Dipali Chaudhari. I am a master in Electrical Power System. Sharing my knowledge on this blog makes me happy. Apart from that, I love playing badminton. And sometimes I dwell on the Python programming.