Hello,
If you are looking for a job or business opportunity working with core companies in Electrical, Mechanical or Civil Engineering, I am sharing the top 100+ core company names.
Also writing my view- how can you make the best use of this company list for the betterment of your career, after the list. (So, do read this article completely.)
This list includes major companies (not all, there are many more companies) working in the core domain.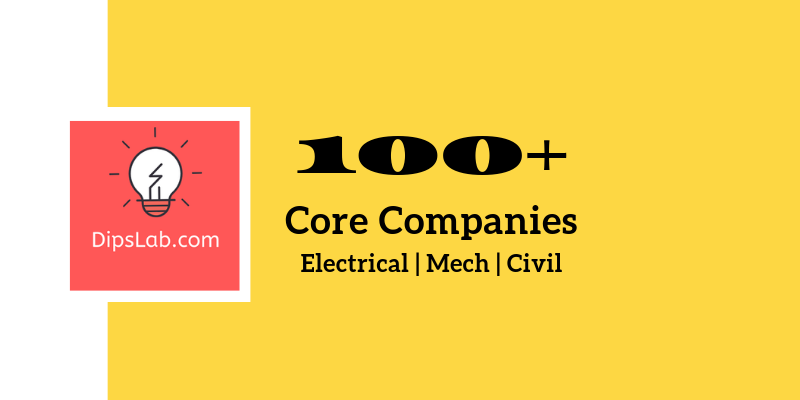 List of Top Core Electrical & Electronic Engineering Companies
[Electrical, Mechanical and Civil Engineering]
ABB India
Adani Transmission Limited
Aditya Birla Group
AIRWORKS India Engineering Private Limited
Altair Electronics Limited
Amara Raja Batteries
AMCO Electrical & Engineering Co.
BAeHAL
Bajaj Electrical Limited
BGR Energy Systems Limited
Bharat Bijlee
Bharat Electronics Limited
Bharat Fritz Werner (BFW)
Bharat Heavy Electricals Limited (BHEL)
Bosch Electric
Buhler Private Limited
Cable Corporation of India Limited
Centum Electronics
Crompton Greaves (CG Power)
Cummins Electronic
Dongfang Electric (India) Private Limited
Doosan Electronic
EMCO ELECTRONICS
Emersons
Elektro Guhring (GmbH)
Eon Electric
Exide Industries Limited
Fuji Electric India Private Limited
General Electric (GE) Limited
Gerb Vibration Control Systems Private Limited
Grindwell Norton (GNO) Limited
Godrej
Goodrich Corporation (B.F. Goodrich Company)
Haier
Hindustan Aeronautics Limited (HAL)
Havells India Limited
HBL Power Systems Limited
HCL technologies
Hindustan Petroleum Corporation Limited (HPCL)
Hindustan Turbo Machinery Limited
Hitachi Hi-Rel Power Electronics Private Limited
Honeywell automation
HPL Electric & Power Limited
Impact Engineering Solution Private Limited
Innovate Electronics
Jabil Circuits
Jindal Steel
John Crane
Kennametal
Kirloskar Electric
KOMET
Larsen & Toubro (L & T) Electrical & Automation
LG Electric
Mahindra Electric Mobility Limited
Mahindra Electronics
Marathon Electric
Micro Electrical
Mitsubishi Electric
Moog, Inc. (Space & Defense Group)
National Mineral Development Corporation (NMDC) Limited
National Thermal Power Corporation (NTPC) Limited
Nauvata Engineering Private Limited
Noise & Vibration (N & V) Dynamics
Oil India Limited (OIL)
Paloma Turning Co. Private Limited
Philips Electronics India
Power Grid Corporation of India
Ranka Steels
Reliance Energy Limited
Rockwell Automation
Rotork
San Engineering and Locomotive Co. Limited
Schinder electric
SFO Technologies Private Limited
Servomax
Siemens Automation
SKF Limited
Steel Authority of India (SAIL)
Sterlite Power
Surya Roshni Limited
Suzlon Energy Limited
TAFE – Power Source Division (PSD)
T D Power Systems
Taneja Aerospace & Aviation Limited (TAAL)
Tata Iron and Steel Company Limited (TISCO)
Tata Motors
Techno Electric & Engineering Company Limited
TE Connectivity Limited
Telco Construction Equipment Corporation Limited (Telcon)
Thermax Limited
Toyo Engineering Corporation Limited
Toyota Electrical
Turbo Tech Defence & Aerospace Private Limited (TTDA)
Ultra Electric Company India Private Limited
Usha Martin
Videocon Industries Limited
Vijai Electricals Limited
Voltas limited
Wartsila India Limited
Wipro Infra's automation
All the above core electrical engineering companies are present in Bangalore and other metro cities in India. Most of the listed companies are multinational so you can find them in other countries as well.
Related Read: Topmost PSU companies List
How Can You Make the Best Use of this List of Core Companies?
Are You Searching for Jobs?
Search these company names on Google to find the addresses of these companies in your city. Find the career page of those companies and submit your resume.
For most of the companies, to submit the resume, you need to make your account and profile.
You can also visit these companies (preferably if it is near to your place) directly to submit your CV.
They might ask you for your email so that they can inform you for future job opportunities and openings.
Do You Have a Business Proposal?
Search the company name on Google and visit their homepage.
In about or contact page, you can find their email address. Send your proposal.
For betterment, it is always preferred visiting the company for the proposal. Take the appointment before you go.
Final Word- Need Your Help.
If you are Electrical, Mechanical or Civil engineering, find this company list useful for you. And also, share it with your friends.
I have collected and listed these core electrical engineering companies to help others in our domain. Now, I need a little help from each one of you.
If you are working in any of these companies, please share your reviews and experience. I am sure it will add value to other job seekers.
Also, let me know if there are any other good companies that deserve attention on the list.
Let's Help Each Other to Grow!
I have completed master in Electrical Power System. I work and write technical tutorials on the PLC, MATLAB programming, and Electrical on DipsLab.com portal.
Sharing my knowledge on this blog makes me happy.  And sometimes I delve in Python programming.