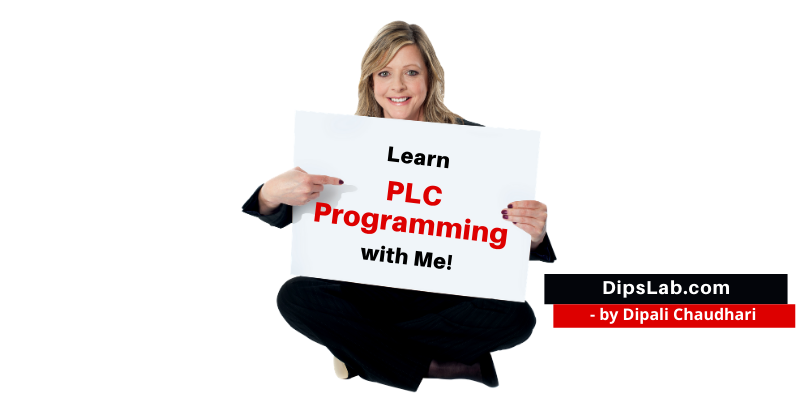 Are you here to learn more about PLC programming?
What is PLC? and why is it so important?
Programmable Logic Controller is a short abbreviation of PLC. PLC is basically known as 'Primary Controller' or 'Programmable Controller'.
In the enhancing mode and development of new technologies, the trend of PLC is evolving. It has become an integral part of the control system in an industrial environment.
What exactly is the Programmable Logic Controller [PLC]?
In this tutorial, I am describing the PLC in detail. Read this complete tutorial to learn PLC basics. I am explaining the working of PLC and its different types.
At the end of this article, you will find many of the day-to-day applications you can automate with PLC.
This is really interesting. Right?
Let's start then…
What is the Programmable Logic Controller (PLC)?
Here is my simple and formal definition of PLC.
PLC is a solid-state control device or computerized industrial controller that performs discrete or sequential logic in the factory or automation environment.
If you get this definition completely or not, don't worry. In this article, I will be explaining each of the terms mentioned this definition.
Basically, PLC is a combination of software and hardware. It acts as the brain of the machine or system for automation control systems.
Technical Definition of PLC:
The programmable logic controller is defined by 'National Electrical Manufacture Associations [NEMA]' as,
The digital electronic device that uses programmable memory to store instructions and implement specific function such as programming logic, sequence, timing, counting and arithmetic operations to control electronic machines and technical process.
This is how the Mini PLC looks like.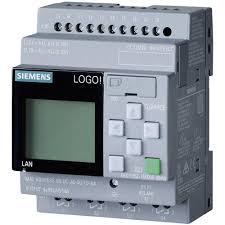 Schematic figure of the PLC (Compact PLC/ Mini PLC)
The PLC controller devices can be executed or operated by automatically and manually. For its operation, it consumes additional manpower, time, utility, and accurate operation in the system.
The most benefit of PLC:
It performs precise operations within very less time. And it consists of many components for controlling devices.
To understand the different operations performed by PLC, I am explaining each useful PLC component with the help of a block diagram in detail.
Basic Block Diagram of PLC System
The block diagram of PLC consists of different components. Each component has associated specific functions and operations in the PLC.
The list of basic components are.
Input and Output Modules
Power Supply
Control Processing Unit (CPU)
Memory System
Communication Protocols
Programming
You can see all these above PLC components in the below figure.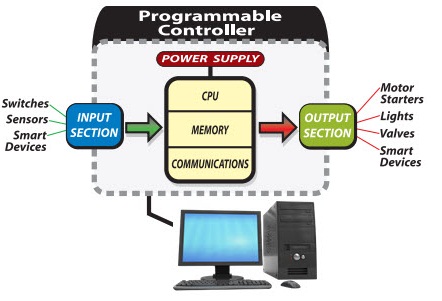 PLC System Image Source
Let's see the description of the system one-by-one (PLC basics briefly explained).
1. Input and Output (I/O) Modules
The input/output modules in PLC are of two types. It can be either digital or analog.
Just like any other device or machine, we have to provide input to the PLC controller. It yields output.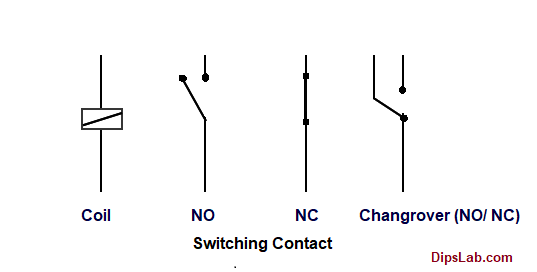 For example, when the user presses a button, the motor starts. Here the switch button is input. The motor is an output device.
In PLC, to take the input and to return the output, there are an I/O modules.
The input modules are used for providing an interface for input devices like different types of switches (push button switch, selector switch, limited switch), sensors, etc.
The output modules are used for providing an interface for output devices like motor, fan, relay, light, lamp, electric heater, solenoid valve, buzzer, etc.
You can learn PLC input and output modules in detail.
2. Power Supply
There is no science to make the electrical device works without providing a power supply.
Every device operates around you need power whether if its electrical or mechanical or any other power supply.
For PLC, we need an electrical power supply.
The power supply provides power to all other components to operates. It provides power to the input/output modules, memory system, and processor.
The function of the power supply is to provide the DC or AC power to operate the PLC.
How much power does it require to operate PLC?
Most of the PLCs work at 220VAC or 24VDC. You can learn the difference between AC and DC in detail.
3. Central Processing Unit (CPU)
Central Processing Unit is the heart of the PLC system. The function of the CPU is to store and run the PLC software programs.
It helps to perform the basic arithmetic, logic, controlling, and input/output operations specified by the instructions. It consists of the three subparts as memory, processor and power supply.
4. Memory System
A memory system is responsible for storing and retrieving data and information. It consist of different type of memory such as RAM, ROM, EEPROM and Flash memory.
Overall memory is classified into four sections based on the types of data it stores.
Input/Output Image Memory
Data Memory
User Memory
Executive Memory
5. Communication Protocols
The communication protocols are useful for exchanging the information or data between connected devices through a network.
For further detail, kindly check topmost 10 communication protocols used in PLC.
6. PLC Programming
You need PLC programming instructions and programming to live the communication between different circuits of the PLC.
The useful information or data are communicated by the specific communication protocols.
Most of the PLC programmer works on the ladder diagram programming language. It is pretty easy as compared to other PLC programming languages.
How does Programmable Logic Controller Work?
The most important working principle is- the PLC is operated by continuously scanning programs. Scanning happens every time per millisecond. So, it is called as the Scan Cycle.
For this scan cycle, PLC required a little amount of time in the range of milliseconds or ms.
What are the basic PLC Scan Cycle?
The scan cycle consists of the following three basic main steps.
Read the inputs
Execute the program by the CPU
Update the output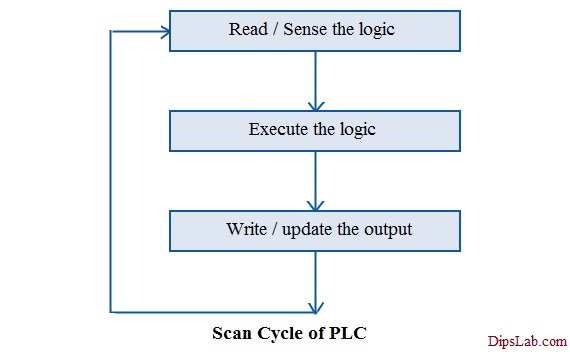 Step 1: Read / Sense the input
Firstly, PLC reads the on/off status of the external input signals. After scanning the input, it gets stored in the input memory. This input included switches, pushbuttons, proximity sensors, limit switches, pressure switches, etc.
Step 2: Execute the logic by the processor
This scanned input gets transferred to the CPU for processing from input memory. The processor executes the programming instructions based on the input. After the execution, the result (on/off) will be stored in the device memory.
Step 3: Update / write the output:
When the program executes the last instruction, it will send the on/off status to the output device memory. The outputs include solenoids, valves, motors, actuators, and pumps.
All three steps get completed under the scan time.
What is Scan Time?
The amount of time is taken by the processor to read/sense the first input and execute the last output called the Scan time.
PLC is so fast as it can easily scan and execute the program in few milliseconds i.e. 10-15 milliseconds.
What are the Types of Programmable Logic Controller (PLC)?
Two types of PLCs are used for commercial or industrial purposes.
Compact PLC
Modular PLC
Knowing these two types is the part of PLC basics knowledge.
What is a Compact PLC?
It is also called as Integrated PLC or Fixed PLC.
The compact PLC has a fixed number of input/output modules along with power supply and CPU.
What is a Modular PLC?
It consists of a variable number of inputs and outputs. Inputs and outputs can be added to the modular PLC systems by the user.
If you look at the below PLC designing structure, it looks more like a rack. So, it is also called as Rack-Mounted PLC.
I have explained both compact and Modular PLCs in detail. Check the difference between modular and compact PLC.
What are the Most Popular PLC Programming Languages?
Based on the International Electrotechnical Commission(IEC) standard, PLC programming languages are classified into five main standards.
Ladder diagram (LD)
Instruction List (IL)
Structured Text (ST)
Function Block Diagram (FBD)
Sequential Function Charts (SFC)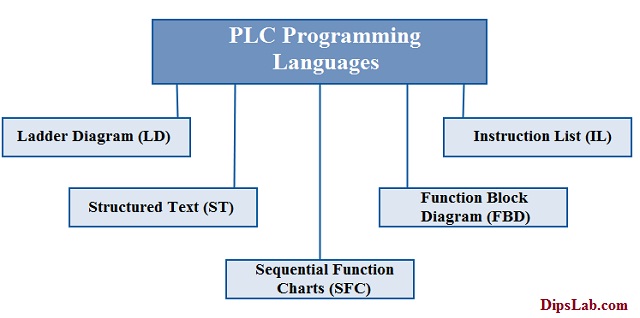 These are the topmost 5 different type of PLC programming languages.
According to the study and operations, ladder diagram (LD) is the widely PLC language for writing easily understandable programming logic. This programming logic based on the logic gates.
LD has a graphical user interface. It comes with many features that give an edge over other programming languages.
What is the most popular PLC brand used?
In the automation environment, more companies are manufacturing and working on the control system by using PLC and SCADA.
Today, there are multiple brands available for PLC systems. The Asea Brown Boveri (ABB), Allen Bradley (AB), General Electric (GE), Siemens, Delta, Mitsubishi, Omron, and Schneider are some of the very popular PLC brands.
Based on the usage, Siemens PLC tops the position. Allen Bradley PLC is at the second position in Automation.
You can use any brand of PLC as per your project requirements, study, and industry need.
Applications of Programmable Logic Controller (PLC)
For automation, multiple PLCs are used to monitor and control building systems in production processes.
PLCs are used in various industries like the steel industry, glass industry, cement industry, paper mill, coal mine, automobile industry, chemical industry, textile industry, robotic system, and food processing system. And the list goes on.
In this PLC basics, I will talk about some of the popular usages of PLC in the industry.
1. PLC in Electrical Power Station:
PLC is used in the generation, transmission, and distribution in the electrical power system.
It also controls, monitors and detects the problem in Smart Grid System. At electrical substations, automatic reclosing, circuit breaker tripping, capacitor switching, etc. can be controlled with PLCs.
PLC is used in the smart grid system.
It is used to detect the auto assembly line system in a substation.
Some electrical equipment can be operated with PLC.
It is used in phase sequence detection and monitoring system.
Fault detection and protection of an induction motor can be controlled by using the sensor and PLC.
2. PLC in Industrial Applications:
In the industrial environment, manufacturing, monitoring, and controlling machine and different types of equipment are automated by PLC.
Various industrial applications that use PLC are given below.
Machine handling system
Conveyor belt system
Automatic car washing system
Automatic packing and labeling system
For mine, water level fuzzy control system
Automatic bottle or liquid filling system
Industrial timer control system for multiple machines
Industrial temperature controller for a different purpose
Automatic drainage water monitoring and control system
Fault detection and protection of an induction motor by using the sensor
Real-time power plant coal level sensing
3. PLC in Commercial Applications:
We can see the growth of PLC in commercial control applications. With the use of PLC, applications can easily operate without or with very minimal manpower or physical hard work.
Here are some basic commercial application uses PLC.
Automatic smart traffic control signal system
The design of smart elevator control system
Flashing light controlling system
Fire detection and alarm system
The automated guided vehicle system
Useful for the automatic parking system
Sequence or numerical counting system
In the roller coasters machine
Pressure controller in multi-pump applications
4. PLC in Domestic Applications:
For the domestic purpose, PLC act as a remote operating device or automatic sensing device. We can automate some day-to-day activities with PLC.
Here are some useful domestic applications we can automate with PLC.
Water tank level control system
Automatic door closing and opening system
The remote monitoring application like Air compressor
Other remote controlling or switching purposes like light, motor, fan, etc.
5. PLC in Education Department:
Engineering students mostly prefer the automation system for doing their academic or research projects. It is a big trend.
As part of the project, you can automate any commercial or domestic applications using PLC.
Your project should be designed to automate a specific task. It should work under real-time and with superior reliability and best performance.
These are the above various applications of the PLC.
Advantage and Disadvantage of PLC
In PLC basics we are also interested in learning some advantages and disadvantages of PLC.
Advantages
PLC (especially Compact PLC) has a lower cost associated with it as compared to the other automation technology.
It increases reliability.
Programming used for PLC is easy to write and understand. LD PLC programming is easiest.
PLC has the ability to easily communicate and connect with the computer. You can use various standard communication protocols.
PLC does not take much space. They are smaller in size.
Fast operation (No booting time) is one of the advantages.
Modification is possible. You can easily make the changes in an already implemented design.
PLC has low maintenance associated with it.
Modular design makes development easy.
PLC has a fast scan time (near about 10-15 millisecond). It requires very less operation time to perform any task.
Disadvantages
There are only a few disadvantages as compare to the advantages.
You can operate one program at a time.
PLC has some working limitations. The performance decreases in case of high temperature, vibration conditions.
This is all about the Programmable Logic Controller aka PLC. In this article, I tried to cover all the PLC basics required.
If you have any queries, please hit your queries in the comment section. I will reply as soon as possible.
Programmable Logic Controller (PLC) Related Topics:
Happy PLC Programming!
Myself Dipali Chaudhari. I am a master in Electrical Power System. Sharing my knowledge on this blog makes me happy. Apart from that, I love playing badminton. And sometimes I dwell on the Python programming.