List of the important 48 PSU Electrical Companies…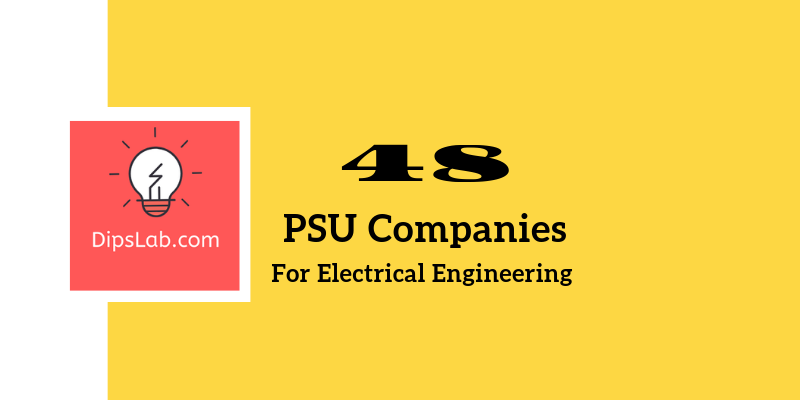 Are you seeking the right job opportunity in the core domain (Electrical, Mechanical or Civil)?
Do you want to know about the (Public Sector Undertakings) PSU job preparation?
In this article, I am sharing a complete guide to prepare for PSU jobs.
Also, introducing you to the list of about 50 PSU companies.  This list also includes a list of the core companies that belong to the government organization.
If you are serious about PSU, read this article completely. At the end of the article, you will also find the questions asked in PSU companies and how one of the candidates got selected in 3 top PSU companies.
What is the Public Sector Undertaking (PSU)?
PSU and Public Sector Enterprise are the companies owned by the Union or Territorial or State Government of India.
And they consist of central or state public sector enterprises like public sector banks, telecommunication or networking sector, transportation sector, agriculture sector, airforce sector, etc.
In the Public Sector Undertaking, BHEL, NTPC, IPCL, ONGC, SAIL, etc are the largest engineering enterprises in India.
In India, PSUs are classified into three categories, namely as
Maharatna PSU
Navaratna PSU
Mini-Ratna PSU
And again Mini-Ratna is divided into two categories.
Mini-Ratna I
Mini-Ratna II
Knowing about this classification is out of context right now.
List of PSU Companies for Electrical and Other Core Engineering:
Classifying each company in a different category based on the sector it is working in…
Resource (Oil, Gas, and Coal) Sector
CIL (Coal India Limited)
MGL (Mahanagar Gas Limited)
GAIL (Gas Authority of India Limited)
IOCL (Indian Oil Corporation Limited)
ONGC (Oil and Natural Gas Corporation)
NLC (Neyveli Lignite Corporation Limited)
HPCL (Hindustan Petroleum Corporation Limited)
OMPL (ONGC Mangalore Petrochemicals Limited)
MRPL (Mangalore Refinery and Petrochemicals Limited)
2. Industrial Manufacturing Sector
CEL (Central Electronics Limited)
SAIL (Steel Authority of India Limited)
Vizag Steel (Visakhapatnam Steel Plant)
BHEL (Bharat Heavy Electricals Limited)
MIDHANI (Mishra Dhatu Nigam Limited)
MOIL (Manganese Ore India Limited) – Vacancies and Recruitment
ECIL (Electronics Corporation of India Limited)
NALCO (National Aluminium Company Limited)
3. Power Plant (Genco, Transco, and Discom) Sector
Tata Power Limited
NTPC (National Thermal Power Corporation)
PSTCL (Punjab State Power Corporation Limited)
PGCIL (Power Grid Corporation of India Limited)
OPGC Ltd (Odisha Power Generation Corporation)
NHPC ( National Hydropower generation company)
NPCIL (Nuclear Power Corporation of India Limited)
GSECL (Gujarat State Electricity Corporation Limited)
MPMKVVL (Madhya Pradesh Madhya Kshetra Vidyut)
BSPHCL (Bihar State Power Holding Company Limited)
PSTCL (Punjab State Transmission Corporation Limited)
POSOCO (Power System Operation Corporation Limited)
WBSEDCL (West Bengal State Electricity Distribution Company)
MPPGCL (Madhya Pradesh Power Generation Company Limited)
MSETCL (Maharashtra State Electricity Transmission Company Limited)
4. Airforce and Aeronautics Sector
AAI (Airport Authority of India)
HAL (Hindustan Aeronautics Limited)
5.Telecommunication and Networking Sector
BSNL (Bharat Sanchar Nigam Limited)
BBNL (Bharat Broadband Network Limited)
BEML (Bharat Earth Movers Limited)
6. Research and Development Sector
BARC (Bhabha Atomic Research Center)
DDA (Delhi Development Authority)
DRDO (Defence Research and Development Organisation)
7. Transport and Rail Cooperation
RITES Limited
RVNL (Rail Vikas Nigam Limited)
DMRC (Delhi Metro Rail Corporation Limited)
IPRCL (Indian Port Rail Corporation Limited)
MRVC (Mumbai Railway Vikas Corporation)
MDL (Mazagon Dock Shipbuilders Limited)
IRCON (Indian Railway Construction Company Limited)
8. Banking and Agriculture Sector
BNPM ( Bank Note Paper Mill)
NFL (National Fertilizers Limited)
PSU Job Preparation
What are the PSU recruiting through GATE?
Almost all the PSU companies mentioned above recruit candidates through the GATE exam.
In India, PSU companies are accepting the scores of the Gratitude Aptitude Test of Engineering (GATE) to recruit candidates in various posts of Engineering.
To get into the PSU companies, you have to crack the GATE exam with a really good rank. And the competition is always high.
What is the eligibility criteria for PSU through GATE?
As most of the PSUs give calls based on the GATE rank. Every year GATE exam is carried out in the last week of February or the first week of March.
You can expect the recruitment notification in March, April, and May; after the GATE exams.
For some of the PSUs, you have to apply online before the GATE exam itself. So keep the watch on it.
How to prepare for PSU Interview?
Based on your GATE rank, you will get the interview call. You have to be present at the venue on the given date.
It will be a face-to-face interview. As all the top GATE rankers will be selected for the interview, you will be having tough competition.
Most of the questions will be asked on the core technologies. As you have already prepared for the GATE, it will not be much difficult. Just keep doing the revision even after the GATE. Plus point for you, there will be nothing out of the syllabus.
It is so exciting to tell you about my friend Sanjay Goshe who secured the GATE All India Rank 197. He got selected in BHEL, IOCL, and ONGC at the same time.
If you want to know the types of questions asked in PSUs, check the list below where interview questions are shared by candidates.
Apart from that, you can also apply for these topmost 100+ core or automation companies. For some of the core companies, you can apply without GATE. You can find the job opening by visiting their career page on their website.
These are the topmost electrical companies in the public sector undertaking (PSU). To get the job you have to seriously prepare for the GATE. Based on your GATE rank, you can expect the interview call.
The Interview will be taken by the expert panel. They expect really technical and sound knowledge from you. Go through all the interviews and experiences shared by the candidates. And give your best.
This is all about PSU job preparation.
If you have any question or doubt feel free to comment below. Please share with your friends preparing for PSU jobs.
All the best!
I have completed master in Electrical Power System. I work and write technical tutorials on the PLC, MATLAB programming, and Electrical on DipsLab.com portal.
Sharing my knowledge on this blog makes me happy.  And sometimes I delve in Python programming.