Hello Everyone,
Earlier to this article, I have curated many industrial automation-related tutorials on the DipsLab portal.
Interestingly, I got more comments on my article- 'What are the topmost industrial automation companies?'
I'm glad to list down here my choice for top industrial automation companies.
If you want to build your career and long-term exponential growth in the automation field, refer to these topmost MNC automation companies you should look for.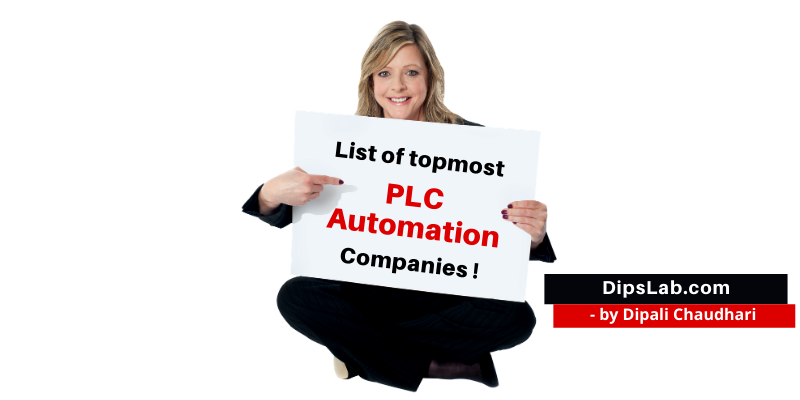 What are the Best Automation Companies in the World?
There are a lot of automation companies. They have developed many of their branches all over the world.
List of Industrial Automation Companies:
Siemens
ABB Limited
Delta
Bosch
Hitachi
Schneider Electric
Rockwell Automation
Yokogawa Electric Corporation
Honeywell Process Solutions
Mitsubishi Electric
OMRON Industrial Automation
Larsen & Toubro
Toshiba
Balluff
Festo
SETEX
GE Automation
Wika
Metso
Wago
Cashco
FANUC
Keyence
Yaskawa
Beckhoff
Voltas Ltd
Unitronics
Yokogawa Electric
Danaher Industrial Ltd
IMI Precision Engineering
B&R Industrial Automation
Emerson Process Management
Titan Engineering and Automation Limited (TEAL)
These industrial automation companies provide automate services by using advanced technologies.
Their aim is to improve the industrial environment, to automate controlling systems by using computer software, robotics operations.
How To Prepare to Get a Job in Industrial Automation Companies?
In Electrical Engineering, PLC and SCADA are two popular skills used in industrial automation.
Different countries have manufactured and developed different PLC Automation brands. Most of these PLC brands are named after their companies' names. Like Siemens PLC, ABB PLC, Delta PLC, etc…
If you want to shape your career in industrial automation, learn PLC automation. I am curating this tutorial to help engineers to get into the automation fields. It's completely FREE.
If you want to join any private coaching institutes, choose the best automation training centers which give placement opportunities.
Top Companies for Core Engineering (Electrical, Mechanical and Civil Engineering), you can consider for your next job.
If you are searching for a job in the core field or preparing any PSU, check the list of companies.
If you have any queries, you can freely drop me your question below in the comment section. If you find this list of companies useful, please share.
Thanks for Reading!
I have completed master in Electrical Power System. I work and write technical tutorials on the PLC, MATLAB programming, and Electrical on DipsLab.com portal.
Sharing my knowledge on this blog makes me happy.  And sometimes I delve in Python programming.