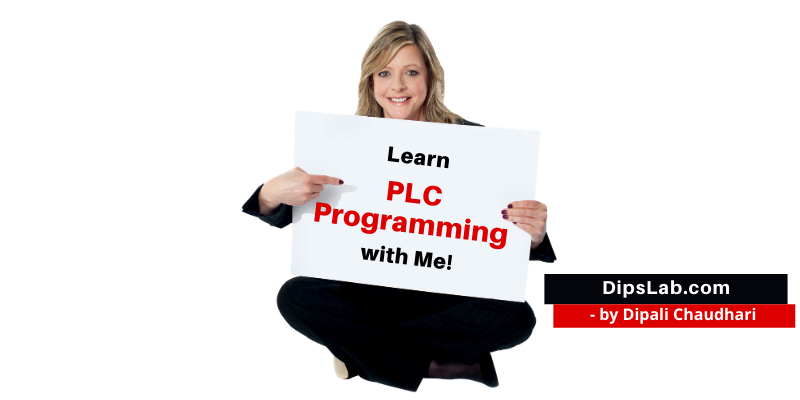 Today, we are studying the most used Programmable Logic Controller (PLC) communication protocols in the industry.
This article contains the top 31 communication protocols for PLC in detail.
Firstly, you should know…
What is Communication Protocol?
We all know the typical definition of communication protocol.
The communication protocol is a set of rules that govern data communication.
In other words, the communication protocol acts as an agreement between two or more communicating devices.
By using the communication protocols, two devices connect and communicate with each other.
Without communication protocol, devices can only be connected but not communicated.
List of PLC Communication Protocols
What are networking protocols used in Industrial Automation?
Here, I am listing the different types of communication protocols used for the automation of processes in PLC.
EtherNet/IP
Profibus
Modbus
Interbus
ProfiNet
ControlNet
DeviceNet
DirectNet
CompoNet
RAPIENet
EtherCAT
MelsecNet
Optomux

DF-1 Protocol

HostLink Protocol
MECHATROLINK
DH- Data Highway
PPI- Point to Point
EtherNet Powerlink
MPI- Multi-Point Interface
EGD- Ethernet Global Data
AS-i- Actuator Sensor Interface
OSGP- Open Smart Grid Protocol
DNP3- Distributed Network Protocol
SDS- Smart Distributed System Protocol

PieP- Process Image Exchange Protocol

SRTP- Service Request Transport Protocol
BSAP- Bristol Standard Asynchronous Protocol
FINS- Factory Interface Network Service Protocol

HART- Highway Addressable Remote Transducer Protocol

Recommended Standard (RS-232, RS- 422, and RS-485) Protocols
These are the foremost communication protocols used for the PLC and other network connections. These protocols are supported by different PLC software brands.
The communication protocols are dependent upon three fundamental parts such as baud rate, network length, and the number of nodes.
More communication protocols are available in the market. You can easily buy PLC communication protocols.
What is the Baud Rate?
Baud rate is also known as Communication speed.
The rate of data transmission on the network is called Baud Rate. The unit of Baud Rate is bits/second (b/s).
In simple terms, it is calculated as the "number of data transferred per second".
Note: As all the communication happens over the channel in 0 and 1, Baud Rate and Bit Rate are the same.
Characteristics of PLC Communication Protocols in Table
When PLC modules are connected over the network, the standard communication protocols are used.
The different types of standard communication protocols support different speed (baud rate), distance(network length) and the number of connecting devices (nodes).
| | | | | |
| --- | --- | --- | --- | --- |
| # | Protocol/Cable | Baud Rate | Length | Node |
| 01 | Ethernet | 100 Mb/s | (Few Km) | 255 |
| 02 | Profibus | 5-12 Mb/s | 15 Km | 127 |
| 03 | MPI | 19.2- 38.4 Kb/s | 50 m | 32 |
| 04 | PPI | 187.5 Kb/s | 500 m | 1 |
| 05 | DH | 230.4 Kb/s | 3.048 Km | 64 |
| 06 | Control Net | 5 Mb/s | 30 Km | |
| 07 | Device Net | 500 Kb/s | 0.487 | 64 |
| 08 | USB Adapter | 57.6 Kb/s | 10 m | 1 |
| 09 | PC Adapter | 9600 Kb/s | 15 m | 1 |
| 10 | RS-232 | 19.2 Kb/s | 10 m | 1 |
| 11 | RS-485 | 10 Kb/s | 1.2 Km | 32 |
Which PLC communication protocol you should use?
If you want to communicate with the more number of nodes with more speed, Ethernet is the best choice. You can read detail about ethernet here.
If your network has a length of more than 25 Kilo-meter, you should use the Control Net protocol.
Binary Data Type Conversion for Baud Rate
Binary system based on the bit. Bit is either 0 or 1.
1 Nibble= 4 Bits
1 Byte= 8 Bits
1 Word= 2 Bytes = 16 Bits
1 Double Word= 4 Bytes= 32 Bits
Let's see, binary data representation diagram.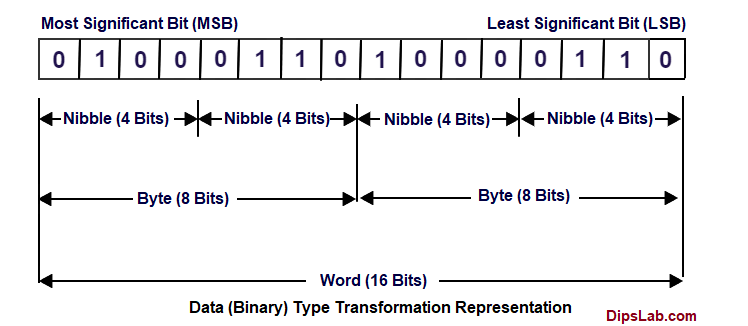 This is all about topmost PLC communication protocols. And I also covered the basic fundamental parts of protocol like Baud rate (communication speed), network length and the number of nodes supported by each protocol.
Which communication protocol you use for PLC? Share with me by commenting below. If you have any query, let's discuss.
Other Related PLC Tutorials:
Happy PLC Learning!
If You Appreciate What I Do Here On DipsLab, You Should Consider:
DipsLab is the fastest growing and most trusted community site for Electrical and Electronics Engineers. All the published articles are available FREELY to all.
If you like what you are reading, please consider buying me a coffee ( or 2 ) as a token of appreciation.
This will help me to continue my services and pay the bills.

I'm thankful for your never-ending support.
I have completed master in Electrical Power System. I work and write technical tutorials on the PLC, MATLAB programming, and Electrical on DipsLab.com portal.
Sharing my knowledge on this blog makes me happy.  And sometimes I delve in Python programming.