Do you want to learn how to prepare for PSU exams?
Here, I am interviewing Sanjay Goshe.
To tell you little about him, he has secured GATE AIR (All India Rank) 197. He has been selected in many of the PSUs like IOCL, BHEL, and ONGC. He has been outstanding.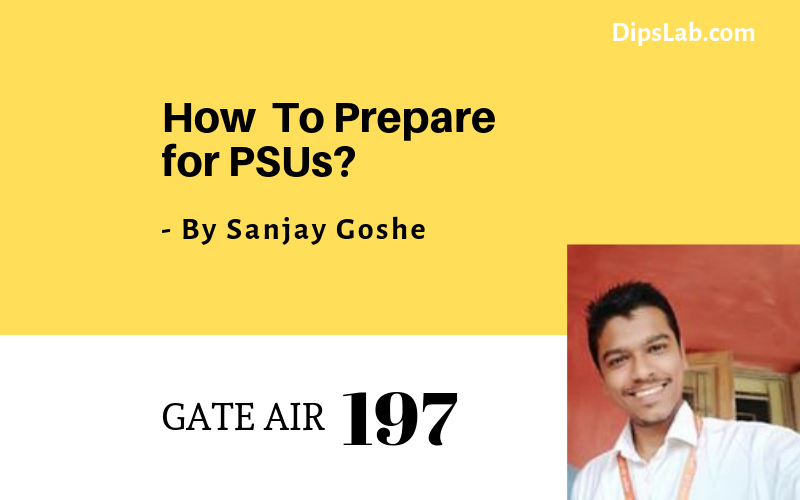 I will be asking all the questions related to his preparation for PSU through GATE and his experience.
If you are preparing for PSU, I am sure, going through his experience and how he has prepared will help you.
Please go through his experience of getting into  PSU.
Q1. Please tell me about yourself, your education and work.
Hello friends, Today I am sharing my PSU interview experience, technical questions, the piece of study materials and others sharing my thought on the exam.
Firstly, One thing I want to share with you.
It is impossible to achieve success without failure.
So, to enjoy the test of success you have to enjoy the test of failure as well.
About Family:
My father the ideal hero of my life is neither a businessman nor an employee. He is a farmer who works hard in the field to feed his family and whenever some difficulties come he never gives up always stand in front. I feel proud of myself being a son of a farmer.
Q2. How difficult was your journey getting into the Engineering?
After completing my intermediate I appeared IIT-JEE, AIEEE, and OJEE. I could not able to crack IIT, but I cracked AIEEE.
I did not make me able to join any NITs because of online counseling. Nobody was there to guide me and I put wrong colleges in the college selection list.
I selected in NIT Silcher for EE but due to lack of internet connectivity, I got this news on the last day of second round counseling.
Even I did not know where Silcher is and it was difficult to arrange Rs 30000 in one day, so I got rejected from NITs.
What was happening with me, after getting rejected, I can't express this.
It was like finished everything for me and I was only crying and crying. I got distracted and I broke up with study.
I started thinking like "padai karnese kuch nehi hota he" (Nothing happens by studying). And I opted this idealism.
I did well in OJEE (state entrance exam) as well, so I took admission in a state govt college(IGIT Sarang).
This was the first time someone from this village is going to study engineering.
During this four year of my B.tech, I did everything except study. I did not purchase a single book and I was behaving like an idiot. I was totally crashed.
Girls did not like to talk to me but I was very well known for boys.
Somehow I completed B.tech with 7.7 CGPA and also placed in TCS.
I was thinking like I am capable of this nothing more than this so I was happy. My villagers My relatives My parents all were happy as I got a job during study.
Due to the delay of joining in TCS, I joined in a diploma college as a mathematics lecturer to earn something as because of financial problem and also I had the wish to teach.
I continued there and then joined TCS.
I was enjoying my life as the first time I was staying in a metro city(Kolkata).
Gradually I grew up and my relatives my villagers started to share their problems with me.
At first, I did not take their problems seriously and I was just listening and then forget all.
But they did not lose their faith in me and share their problems again and again.
The situation for me was being complicated gradually. And they started to lose faith in me slowly.
Whenever I went to my village the charming in their face was not there as before. It was difficult for me to look into their face.
I realized those people, who were feeling proud of me, now they do not like to talk to me at all.
I started feeling like why the hell I have done engineering it would have been better if I am a farmer and working with them in the field.
This was something running in my mind in every second I could not sleep peacefully. Even I cried many times.
Everybody in the office started asking me why you are so depressed what was happened with you? But I did not have an answer.
The condition was very difficult I could not resign my job due to EMI (I took a loan for my B.tech and latter for my sister marriage). And I was the only source of income of my family.
I was confused and questioning myself what should I do? It took time to decide what exactly I want to be, but finally, I made my decision.
I had zero confident levels but still, I did not afraid.
I was believing as I can do it.
Started to remind my past what mistakes I have done.
I realized what I have done after joining engineering. I accepted my mistakes honestly and felt from my heart.
Fixed my goal and made promise myself no matter what will be the circumstances I will achieve it and started from where I left long year back.
It was difficult for me to catch the rhythm but not impossible.
Friends it is a journey of mine to achieve my goal and I am facing a lot of obstacles on my way. But, I will keep going on and on until achieving the ultimate one.
After so many constraints if I did this then you will also. Do not lose faith in yourself.
Q3. When did you start preparing for GATE exam?
I started my preparation in June 2016 with no strategy.
I was staying with my friends in Kolkata and we all were working TCS.
Initially, I did not have any textbook even I did not know what to study.
I was weak in basic concepts so I took all standard textbook from my friend and few I purchased and planned my day accordingly.
Q4. How was your schedule for GATE exam preparation while doing job?
As I was continuing my job so I used to study from 10 pm to 1 am at night. If possible 1 hour in the morning on weekdays and 15 to 16 hour on weekends.
The same routine I continued till GATE 2017.
During those days I only studied the textbook and solved almost all exercise problems.
I skipped Digital, Measurement, and AEC completely.
Later, I joined Kreatryx online test series in January 2017 and my average score was 45 to 46 marks.
I did not make any short notes due to time factor but I used sticky notes to memories some formula. Nothing more than this.
I appeared GATE 2017 and scored 48.7 and AIR 1967.
I attempted 62 marks and I was pretty sure definitely my marks will be 57 plus.
But when I matched with the answer it was 49 marks. And all this happened because of silly mistakes and lack of question practice.
There are so many PSU recruits through the GATE.
Luckily with that score, I selected in BSNL JTO as PSU through GATE.
I resigned TCS and joined BSNL.
Whatever mistakes I have done in GATE 2017 I wanted to rectify it.
I called my friend who was in Delhi preparing for GATE and asked about how to get lots of GATE oriented questions for practice?
He suggested me to solve Kreatryx question bank so I purchased it and started solving in July 2018.
With the same routine as mentioned up to AUG 24 2017.
After that, I got released from TCS and I was free, went back to home and managed 7 to 8 hour per day.
By mid of September, I finished Kreatryx question bank and joined Kreatryx test series.
Put important on the skipped subject as I mentioned above along with online test (subject test).
By the mid of Nov, I finished all those skipped subject and their questions.
In between, I was continuing the subject test. Started to solve GATE previous year question bank.
On Nov 27 I joined BSNL for training in Hyderabad.
With me, I took GATE previous year question book, IES GS book and IES previous year solution (Objective Part) paper 1 and paper 2.
In Hyderabad, I mainly concentrated on IES but every week I appeared one full-length test (My average score was 65 but in one test I scored 72.33).
By mid of Dec, completed solving the previous questions.
In the training classroom, I was sitting in the last row and continued to solve the IES previous year questions.
I was able to manage 6 hours effectively during these days. The same thing continued till Jan 2018.
Appeared IES and my technical part went pretty well. Also, a few days back result came and I qualified.
After IES again I fully switched to GATE and joined two more test series. Solved GATE previous paper once more.
Focused more on test series and continued till 2nd Feb.
Now training finished and went back to base location for one-month field training. It was a bit hectic but okay I managed.
Appeared GATE 2018 with full confidence.
I attempted 93 marks but I scored 72.67 marks with AIR 197.
Q5. What are the mistakes you would like to ask students to avoid in GATE exam?
The mistakes what have done in the exam is I have attempted almost all question.
I could not able to verify NAT type answer and hence again faced a few silly mistakes. It is very important to verify NAT type question it helps you to improve your rank.
Please do not repeat the same mistake what I committed.
Q6. Which books are useful for preparations of PSU through GATE?
I have followed the below list of books for GATE to clear my concepts. You can follow coaching materials to clear your concepts as well.
Friends, I believe it is better to follow one book five times than five books one time each. So I have gone through these textbooks thoroughly.
List of Text Books:
Look here, the list of reference books in details…
| | | |
| --- | --- | --- |
| Sr. No |  Book | Book's Author |
| 1 | Electrical Machines | P. S. BIMBHRA |
| 2 | Power System | C. L. WADHWA/J. B. GUPTA |
| 3 | Power Electronics | P. S. Bimbhra |
| 4 | Control System | HASEN SAHID |
| 5 | AEC | Boylstad |
| 6 | Digital Electronics | Moris Mano |
| 7 | EMT | Sadiku |
| 8 | Electrical Measurements and Instrumentation | A. K. Sawhney |
| 9 | Network Theory | A. K. Chakraborty |
| 10 | Signal and System | Scheuum series |
Q7. What are the other materials and resource you referred for GATE?
I solved kreatryx question bank thoroughly 2 times. The first time it took time but it was easy for the 2nd time (2.5 months total).
I had joined Kreatryx online test series, Gate Academy and Made Easy mock test series.
Solving and practicing test series questions helps you to reduce silly mistakes and exam pressure.
Q8. How to crack the interview of PSU through GATE?
And What was your personal experience?
It requires more of your communication skills rather resources or you can say knowledge. The knowledge they have already tested through the written exam.
The task of an interviewer is to judge you and the parameter to judge an interviewee is communication skills.
How effectively an individual can convey the message, that is something very important for an interviewee.
Let me prioritizing the resources.
Communication skill
Company profile
Your final year project
Your hobbies and any extracurricular activities
About your home state and some important national news
Technical knowledge
Communication Skill:
Q. What communication Skill is required for PSU interviews?
You have to speak and then only you can build it up. You can speak in Hindi or English whatever you feel comfortable.
There should be clarity in your voice and the flow should be in a proper sequence.
Just be normal, listen the question take few seconds make a structure of the answer and then talk.
You don't have to worry about time.
Only one right answer is sufficient to judge you whether you are fit for the organization or not.
Just show who you are so that it will be easy for them to judge you and they will ask less question.
Company Profile:
Talking about power and oil sector companies, the companies are diversifying themselves just sustain in the future as because of limited resources and the impact of GHG.
You must go through their website and look into their current ongoing projects.
For OIL sector companies, you must know the job of ONGC in one hand and in other hand IOCL, BPCL, and HPCL.
And similarly the job profile of NTPC and PGCIL.
That shows your interest in the job.
Final Year Project:
They ask me some questions about my final year project. They want to know whether you are an effective team player or not.
After joining an organization you have to work with your team to achieve a common goal.
Hobbies:
Make a good knowledge about your hobbies. You can mention 1 to 2 hobbies. Prepare well for it.
Home State:
If you are preparing for PSU through GATE, be aware of some important historical events, currently highlighted events, national news, and their consequences.
I have attended these three PSU interviews. Please go through these individual exams and technical interview experience.
And good news, I got selected in all three PSUs.
Editor's Note: Thank you so much Sanjay. I am very delighted to share your interview and experience getting into PSU through GATE with DipsLab readers. I am sure it is helping many students preparing for GATE and PSU companies.  Wish you all the best for your future.
(To the readers) This is all about preparing for PSU through GATE. If you have any question for Sanjay to ask, please comment below.
I have completed master in Electrical Power System. I work and write technical tutorials on the PLC, MATLAB programming, and Electrical on DipsLab.com portal.
Sharing my knowledge on this blog makes me happy.  And sometimes I delve in Python programming.