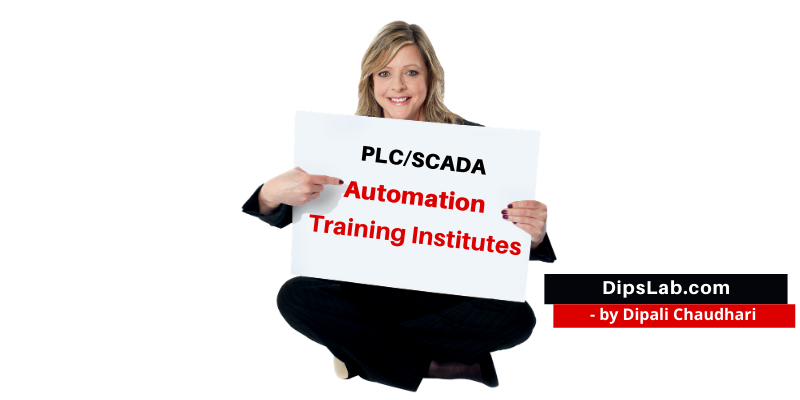 Are you looking for top PLC/SCADA automation training institutes to join?
Before that, I want to share my experience. Hope this will help every individual reading this article.
After graduation from Electrical and Electronic engineering, more students are confused about their future or job opportunities.
I get lots of student comments and queries on my post. The common question most of the students ask me- "Which course is best after electrical engineering which guarantees me a job?"
There are lots of good courses available in the market to learn. This makes your job more difficult to pick one.
If you ask me to choose one, "Industrial Automation" is my first choice.
I know, you might be thinking…
Why is Automation Course Important?
Nowadays, automation is a prominent technology adopted in almost all industrial environments.
Automation is rapidly increasing with a fast-growing environment. Automation reduces the time required for production, provides accurate processing, reduces manpower, etc…
There are a lot of advantages to adopting automation. And every industry is moving towards automation.
It is clear; you have a better way to choose your successful career in the automation field. As compared to the other fields, You will be getting better job opportunities in that field.
If you are looking for electrical and electronics engineering automation, you can learn control panel designing,  PLC/SCADA programming, HMI, VFD, DCS, and many more…
If you are interested in getting into automation- you can learn either online or you can join any coaching private training institutes. There are a lot of resources available online.
Before joining any institute, I would recommend getting basic technical knowledge. You can join any reputed automation training institute for a three to four-month duration.
Many training institutes are ISO-certified institutes with expert facilities and faculties for providing industrial working knowledge.
Top PLC/SCADA Automation Training Institutes in India
If you are looking for automation training institutes in India, here are some topmost industrial training institutes.
They will give training about theoretical as well as practical knowledge about the control panel designing,  PLC/SCADA, HMI, VFD, DCS… in different cities like Pune, Mumbai, Hyderabad, Bangalore, Chennai, and Kolkata.
Top Automation Training Institutes in Pune
ACS Automation Training
Prolific Systems and Technologies
AMTEQ Automation
Victorious Knowledge Edutech
CRB Tech
Sofcon India Pvt. Ltd.
Wartens Technologies
CADCAMGURU ACE
MPTA Education Ltd.
I-CAP Automation
Just Engineering
IB Automation & Electrical Training Institute
Dhanandip Automation Training Institute
Ikode Automation Training Institute
Arich Infotech Pvt. Ltd.
BITC Automation Training Institute
SAGE Automation Training Institute
Out of this list, Victorious Knowledge (VK) Edutech, ACS Automation Training, AMTEQ Automation, Prolific System and CRB Tech are the best industrial automation institute in Pune.
Top Automation Training Institutes in Mumbai
Prolific Systems and Technologies
Precon Automation & Systems Pvt. Ltd.
Teknocrat's Academy of Automation and Control Technology (TAACT)
SMEClabs
These are the topmost papular automation training centers. You can visit their centers for demo classes.
Top Automation Training Institutes in Hyderabad
Electromation Technologies Training Institute
SMEClabs
Trident Techlabs Pvt. Ltd.
BerylSoft IT Solutions Pvt. Ltd.
Prolific Automation
NSIC Training Institute
SOS Institute
AIR VOICE TECHNOLOGIES
SmartBridge Training Institute
International Institute of Automate
TCS iON Training Center BEGUMPET SS Unisoft Tech
Electromation, Trident Techlabs Pvt. Ltd., BerylSoft IT Solutions Pvt. Ltd. and SMEClabs have good reviews and best institute for PLC, SCADA, HMI, and DCS automation course.
Top Automation Training Institutes in Bangalore
Technologics Prolific Systems & Technologies Pvt. Ltd.
L&T Automation
Wartens Technologies LLP
DiFACTO Robotics and Automation
Trident Techlabs Pvt. Ltd.
SMEClabs
MobiGnosis
Unitech Automation
Top Automation Training Institutes in Chennai
Iologix Automation Solution
Technocrat Automation Training Institute
IPCS Automation Training Institute
Hindustan Automation Solutions
Progyaan Learning Centre
SMEClabs
MAS Robotics Pvt. Ltd.
Axiom Semantics
Wiztech Automation
BenTech Automation
Emerald Global Automation India
International Institute of Automate
Top Automation Training Institutes in Kolkata
International Institute for Advanced Training on Control and Automation (IIATCA)
Prolific Systems and Technologies
Ardent Computech Pvt Ltd
New Academy Of Industrial Automation & Technology
IIATCA and prolific training institutes are best for industrial automation training.
These are the selected topmost institute's list in popular cities of India. I will be assured that this article is very helpful to the fresher and training seeker.
Note:
Before joining any institute for training, enroll for their demo classes. Don't pay any fee unless you are convince with their demo classes.
Before joining any institute, you should know the course curriculum, teaching faculties, and the resources they are providing.
Many of the automation institutes provide placement and job opportunities. If you have any doubts or queries about placement, training or expert trainer, etc, clear your doubt by contacting them.
Can I learn Automation for Free?
Yes. You can learn PLC programming for free at your home.
How to Learn PLC Programming at Home for Free?
I shared more PLC programming tutorials. You can learn PLC programming step-by-step.
Complete PLC Programming Tutorials
I have converted almost all the topics for PLC.
If you follow all the tutorials, no one can stop you from becoming the best PLC programmer.
What are other FREE PLC Programming Resources You should Refer To?
If you have any queries about PLC programming learning, you can freely drop me your question below in the comment section.
I'm sure you find the best out of the top PLC/SCADA automation training institutes in your city. Don't forget to share your experience with the institutes you join.
Thanks for Reading!
I have completed master in Electrical Power System. I work and write technical tutorials on the PLC, MATLAB programming, and Electrical on DipsLab.com portal.
Sharing my knowledge on this blog makes me happy.  And sometimes I delve in Python programming.