Are you in the final year and looking for electrical engineering projects and ideas?
Let me tell you, this is the most challenging task I faced during my Electrical and Electronic Engineering (EEE). Getting the right project idea to work on is not an easy job.
So, I can correlate whatever you are going through now.
In this article, I'm listing 325+ project ideas you can pick up right away as your final year project (both major and mini projects for electrical engineering).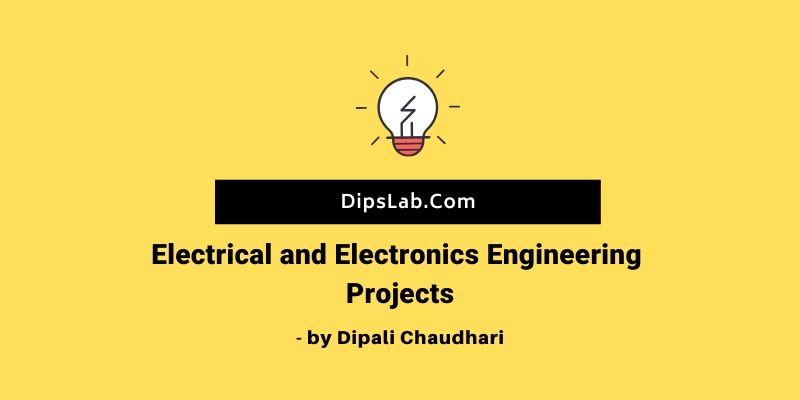 Actually, I am sharing my experience, when it was time to choose an engineering project in the final year semester. I got more lists of the electrical and electronics engineering topics for the projects through online resources.
I was so confused. You might be the same situation right now.
To help you out of this, my friend Vishvas Prajapati and I are sharing the latest topmost 325+ electrical and power electronics-based project ideas.
Let's look at them one-by-one.
325+ Topics for (EEE) Electrical Engineering Projects
The electrical and electronics projects deal with generation, design, control, automation, and integration with advanced technology.
These project ideas are based on the electrical power system, electronic application, instrumentation, control system, wireless communication technology, automation system and so on…
I'm categorizing these project topics into the different technology threads so that you can choose based on your interest.
1. Project-based on Electric Machine
The electrical machine project develops on the basis of the design, drive, control system…
Stepper Motor Controller
Speed Control of DC Motor
PC based Speed Controlled DC Motor
AC PWM Control for Induction Motor
Predefined Speed Control of BLDC Motor
Automatic Sensor Gate using Stepper Motor
Single Phase Induction Motor Speed Control
Thyristor Power Control of Induction Motor
AC to DC with Four Quadrant Motor Operation
Electronic Voting Machine with Seven Segment
Smooth Start of a Single Phase Induction Motor
Electronic Soft Start for 3 Phase Induction Motor
Induction Motor Speed Control using TV Remote
Speed Control of DC motor by Smart Voice Recognition
Speed Synchronization of Multiple Motors in Industries
Touch Screen Based Security & Speed Control DC Motor
Four Quadrant DC Motor Speed Control with Microcontroller
Cellular Phone through Industrial DC Motor Speed Controlling System
Wireless DC Motor Speed and Direction Control for Robotic Applications
Induction Motor Protection System (Over Load Voltage or Current Strip)
DC Motor Speed Control using Radio Frequency Suitable for Robotic Arm
Speed Synchronization of Multiple Motors in Industries using RF remote
Bidirectional Rotation of Single Phase Induction Motor without Run Capacitor
Brushless DC Motor (BLDC) or PMDC Speed Control by PWM with RPM Display
Remote Induction Motor Control by Android Application with 7 Segment Display
Four Quadrant Operation of DC Motor Remotely Controlled by Android Application
Bidirectional Rotation of a DC or Stepper or Servo Motor with a Remote Control Device
Automatic Star-Delta Starter Using Relays and Adjustable Electronic Timer for Induction Motor
In most of these projects, the electrical motor is used as a piece of important equipment.
2. Project-based on Solar System
Now a day, renewable energy sources are very popular in generating and converting into another form of energy like electrical energy.
A solar PV system is the best example of renewable energy sources. You can easily develop a project base on the solar system.
There are some advantages to building projects. As solar energy is free to consume, it is economical. Solar energy is an environmentally pollution-free source of energy.
Sadly, solar system-related equipment is costly.
You can choose the best solar project from the following list of electrical engineering projects.
Solar based Invertor
Solar Tracking System
Peltier Cooler using a solar panel
Solar based Elevator System
Solar based Auto Irrigation System
Train with Solar Panel
Solar based Power Charge Controller
Solar based Dam control using 8051 microcontroller
Optimal Power Generation using Solar System
Solar based Water Irrigation using RF Remote Control
Solar based Variable DC Power Switching using RF Remote
Charge and Load Protection in Solar Power Management
Solar Irrigation System with Soil and Temperature Sensor
Solar Powered LED Street Light with Auto Intensity Control
Farmer Friendly Solar Based Electric Fence for Deterring Cattles
Solar Tracking System with Cooling Panel with Solar Charger
Solar Highway Lighting System with Auto Turn Off in Daytime
RF Controlled Electric wheel Chair with IR Obstacle using Solar Energy
Solar based Electric Wheel Chair with IR Obstacle with RF Remote
Auto Power Supply Control from Three Different Sources ( Solar, Mains, Battery)
Solar Water Pump Control with Four Different Time Slots for Power Saving Applications
IR or RF Remote Control (Bulb, Tubelights, Fan, TV) using Solar System
Solar Energy Measurement System Conveyed over RF using a PIC Microcontroller
Personally, I picked An Automatic Solar tracking system using Microcontroller as a major project during post-graduation.
3. Project-based on Electronic System
These projects include the collection of some power electronics project ideas along with different electronics applications and different updated technology like embedded systems, Arduino, Microcontroller, etc.
Hover Board
Electronics Power Saver
Cyclo Converter using Thyristors
Four-Channel Data Logger using EEPROM
Electronics Code Look using Matrix Keypad
Marx Generator based High Voltage using MOSFETs
Home Appliances Controlling using Android Mobile via Bluetooth
Embedded Quiz Monitoring System for Team Performance Evaluation
Temperature Adjustable Heating System with Power Electronic Devices
High Voltage DC up to 2KV From AC by Using Diode and Capacitors in Voltage Multiplier Circuit
The microcontroller-based project topics are shared later part of this article. Keep reading.
4. Project-based on Electrical Power System
In the electrical power system environment, generation, transmission, and distribution, switchgear protection systems such as switches, protective equipment (like a fuse and circuit breaker), isolator, relay, transformer, etc the most important and essential topics.
Password-Based Circuit Beaker
Commercial Power Saver System
Channel Relay Operated using PC
Three Phase Change Over System
Foot Step Power Generation System
Super-fast Electronic Circuit Breaker
Flexible AC Transmission using TSR
Flexible AC Transmission Using SVC
AC Power Transfer Wirelessly by HF
Underground Cable Fault Distance Locator
Power Grid Monitor and Control through PC
Transformer Monitoring and Control System
Phase Sequence Checker for Three Phase Supply
Electronic Soft Start for Single Phase Pump Motor
Electronic Soft Start for 3 Phase Induction Motor
Instant Electrical Load Survey for Industries or Home
Single Phase Preventer with Overload Control Switch
Load Cut off Switch Upon Over Voltage or Under Voltage
Load Shedding Time Management for Utility Department
Mains Supply Sensed Over Voltage or Under Voltage Trip Switch
Password-based Electronic Line Trip in GEB with all Indication
Transformer Over Load Alert System With Voice Announcement
Footstep Power Generation System (Weighing Machine based )
Auto Selection of any Available Phase, in 3 Phase Supply System
Zig Bee Wireless Relay Control and Power Monitoring System
Remote Monitoring of Transformer or Generator Health Over the Internet
Industrial Power Control by Integral Cycle Switching without Generating Harmonics
Grid Synchronization Fail Detection on Sensing Frequency or Voltage Beyond Range
XBEE based Remote Monitoring of Three Parameters on Transformer or Generator Health
APFC (Automatic Power Factor Compensation) for Industrial Power use to Minimize Penalty
Three Phase Fault Analysis with Auto Reset on Temporary Fault and Permanent Trip Otherwise
High Voltage DC up to 2KV From AC by Using Diode and Capacitors in Voltage Multiplier Circuit
You can use a smart system like wireless communication, remote control system as a part of the innovation to operate wireless power transmission projects.
5. Project-based on the Control System and MicroController
In the following list, the projects are built with the help of the control system and microcontroller.
By using the basic Control System:
Traffic Light Controller using LCD
Traffic Light Controller Using Seven Segment
Contactless Liquid Level Controller
Access Control System Using Card
PC Based Electrical Load Control
Lamp Illumination Control with Precision
Temperature Controlled DC Fan
Servo Motor Control Using Mobile Phone
Brain Controlled Robot
Mobile Charging On Coin Insertion
Brain Controlled Wheel Chair
CAR Controlling using Mobile
Voice Controlled Home Appliances
Hand Motion Controlled Robotic Arm
LED Street Light Control with Power Saver
Dish Positioning Control by IR Remote
AC Power Strength Controller System
Capacitive Touch-based Electric Load Control
AC Power Control with Programmable Interface
Phone Controlled-Load Management System
Intelligent Traffic Light Controller for Ambulance
PC Controlled Scrolling Message Display for Notice Board
Exhaust Fan for Bidirectional Motion with Remote Control
AC PWM based Power Control by IGBT / MOSFET
Any Type of Liquid Level Controller using Ultrasonic Transducer
Human Controlled Colour Changing LED (RGB) Lighting
Automatic LED Intensity Control with Vehicle Movement
Voice Controlled Robot by Cell Phone with Android App
I.V.R.S. System for Industrial Process Control
Pick and Place Robotic Arm and Movement Control
Intelligent Train Security System and Auto Controlling
Battery Operated Motorized Wheel Chair for Handicaps
Submersible Pump Controlling with Power Failure Protection
Android Controlled Military Spying and Bomb Disposal Robot
PC Mouse operated Electrical Load Control Using VB Application
Reducing Electric Bill for Industries and Commercial Establishments
Voice Controlled Robotic Vehicle with Long Distance Speech Recognition
Thermoelectric PELTIER Cooler with Temperature Controller Cooler System
Submersible Pump Controlling using Cell phone With Power Failure Protection
High Power LED-based Intelligent Streetlight Controlling System with Vehicle Counter
Submersible Pump Controlling with Temperature Controlling with Power Failure Protection
Programmable Switching Control for Industrial Automation in Repetitive Nature of Work (Pick & place)
By using the Microcontroller: 
Microcontroller based on Data Logger
Multiple Microcontrollers in LAN like Setup
Microcontroller based on Heart Beat Counter
Microcontroller based on Caller ID (AT89C2051)
Mains Fail Detection with UPS Analogy using 8051 Microcontroller
Microcontroller based on Electronics Baby Swing
Microcontroller based on Green House Control
Power Theft Detection using 8051 Microcontroller
Microcontroller based on Line Following Robotic Vehicle
Microcontroller based on Dam Control with LCD Display
Ultrafast Acting Electronic Circuit Breaker Using PIC Microcontroller
Microcontroller based Voice Operated Load Status with GSM
Microcontroller based on Cordless Mouse Features by TV Remote
6. Project-based on the Communication System
The latest wireless communication system and remote control system-based electrical engineering projects have been listed here.
By using the Bluetooth System:
Bluetooth Operated Home Automation
Bluetooth based Calling System in Elevator
Advanced Wireless Industrial Automation System based on Bluetooth
Bluetooth Controlled the Robot using Android Mobile
Bluetooth based Security Enabled Powered Devices Control System
By using the Infrared (IR) Sensor:
IR Sensor-based Automatic Toll Tax
Energy Saver using PIR motion Sensor
IR Remote operated Pick and Place Robot
Distance Measurement by Ultrasonic Sensor
IR Remote based Controlled Robotic Vehicle
IR Remote based Operated Home Automation
Multi-Sensor Strategies to Support Blind People (LDR – IR – ultrasonic )
IR Remote based Submersible Pump Controlling with UPS System for Power Failure
By using the Radio Frequency (RF) System:
RF Remote based Door Control
RF-ID based Library Automation
RF-based Elevator Calling System
RF-ID based Access Control System
RF-based Automatic Hover Board Machine
Auto Mains Power Failure using the RF system
Variable DC Power Switching using RF Remote
Direction Control of DC motor using RF Remote
RF-ID based Highway Toll Tax Collection System
RF Controlled Wildlife Observation Robot Project
RF-based Petrochemical Fire Monitoring and Control Station
Remote Monitoring of Patient Body Temperature Over Internet
Wireless Home Appliance like Fan Speed Control using RF Communication
Automatic Electrical Appliances Control Using RF Remote with Power Saver
RF-ID based Electronic Passport System for Easy Governance using Arduino
Submersible Pump Controlling using RF Remote with UPS System for Power Failure
Security Integrated System based on RF-ID Access Protocol for Industrial Applications
Industrial and Commercial Appliances Monitoring and RF Controlling with Power Saver
By using SMS System:
Electronic Code Lock with Voice Message
Sensor Gate Operated with Voice Message
SMS Based Stepper Motor Controlling System
Pre Recorded Leave Messages with Basic Home Appliances Load for Emergency
Railway Level Crossing Gate Control through SMS by the Station Master or the Driver
Theft Intimation of the Vehicle Over SMS to Owner Who Can Stop the Engine Remotely
By using the Global System for Mobile communication (GSM) System:
Automatic Power Saver with GSM
UPS System with Alert by GSM Modem
Heart Beat Counter using GSM SIM300
Process Control System using GSM
Vehicle Protection System with GSM
Voice-based Notice Board using GSM
Medical Emergency Alert system through GSM
Weather Report Information System using GSM
Power Meter Reader Plus Load Control using GSM
GSM based Monthly Energy Meter Billing via SMS
Wireless Electronic Notice Board using GSM
SMS based Device Control using GSM Modem
Submersible Pump Controlling using GSM Modem
Water Level Measurement through GSM SIM300
Remote Access to Agriculture Motor through GSM
Automatic Load Switching of Transformer using GSM
Vehicle Accident Detection with GPS and GSM Modem
Power Grid Monitor & Control System using GSM Modem
Underground Cable Fault Distance Conveyed over GSM
GSM based Garbage and Waste Collection Bins Overflow Indicator
Data Communication or Machine Controlling through GSM System
SMS based Device Control using GSM Modem with Status Message
Personal Computer High Security using GSM with an Alert Message
GSM Modems based Irrigation Water Pump Controller for Illiterates
Green House Environment Monitoring and Controlling using GSM
Public Transportation Management through GSM for GSRTC
Cell Phone based Boiler ON or OFF System using GSM Modem
Control System for Modern House-GSM, Timer, LDR, Temperature
GSM based Remote Monitoring of Eight Parameters of Transformer
Power Theft, Mains Fail Monitoring and Load Control using GSM
Robotic Car Operated by GSM Modem(any remote location)
An Online Monitoring System of Temperature and Controlling through GSM SMS
Thermoelectric PELTIER Cooler with Temperature Controller using GSM Modem
ON/OFF Program Time Changing for Electrical Appliances by Wireless(GSM) Method
Industrial Appliances Monitoring and Controlling System Using GSM with Auto Alerts
Detecting Power Theft Prior to Feeding Energy Meter and Intimating to Control Room by GSM
Integrated Energy Management System based on GSM Protocol with Acknowledgement Feature
AC Power Line (AC 230v) through All Industrial Electrical Appliances Controlling (ON or OFF) Indicating System by GSM
Other Wireless Communication System:
WI-FI Operated Robot
Wireless Power Transfer
Wireless Elevator System
Zig Bee based Wireless Notice Board
Wireless Power Driven Car or Train
Remote Alignment Of 3D Dish Positioning
LI-FI base Guiding System in Historical Place
Voice Recording (30 sec) with USB Mp3 Interfacing
Zig Bee based Wireless Data Uploading Automation
Listen Privately to TV Audio Wirelessly Over FM Band
Wireless Power Transfer by High-Frequency Resonating Coils
Wireless Touch Screen base Ordering System for Restaurants
Automatic Wireless Health Monitoring System in Hospitals for Patients
Dedicated Message Communication Wirelessly between Two Computers
7. Project-Based on Security (Alarm) System
Here are some different project ideas you can develop for security and safety purposes.
Baby Protecting Alarm
Smart Helmet for Smart City
Gas Detector with Alarm System
Two Zone Home Security System
Capacitive Touch Electric Switch
Three Zone Home Security System
Digital Clock using RTC with Alarm
Fingerprint-based Security System
Car Operating Panel (G+4) System
Parking Availability Indication System
Automated Elevator with Overload Alert
Home Security System with High Alerts
Auto Metro Train to Shuttle Between Stations
Touch Screen based Industrial Load Switching
Touch Screen based Security with Event Logging
Railway Track Security System with IR Interfacing
Speed Checker to Detect Rash Driving on Highways
Gas Leakage Detector and Auto Dialler Controller System
Password-based Lock for Bike Security with the Ignition Key
OverFlow Water Announcement in the River for People Safety
Finger Print and Keypad based Industrial Security Access Control System
Fully Automated Home Security System with Missed Call and Message Facility
Networking of Multiple Street Junction Signals for Better Traffic Management
8. Project-based on Measuring Instruments
There are so many measuring instruments classified into different types.
Here are some electrical engineering project ideas if you are more interested in developing a project related to measuring instruments.
By using the Meter:
Non-Contact Tachometer
Digital Auto (Rickshaw) Meter
Data Logger for Energy Meter with Readings
Milk or Petrol Flow Meter with Thermal Printer
Milk or Petrol Flow Meter with Data Backup System
Accelerometer-based Wheel Chair Controlling
Accelerometer-based Automatic Hover Board Machine
Device Load Monitor With Programmable Meter For Energy Audit
Accelerometer-based Digital Vocaliser for Deaf and Dumb People
By using the Display:
Moving Message Display on LCD
Water Level Indicator on LCD
Electronic Voting Machine with LCD
3 Phase Sequence Checker by LED Indication
Scrolling LED-based Lending Operating Panel
LED Lamp Dimmer Circuit
Rolling Display using LEDs Matrix
Virtual Display of Message by Propeller Driven LEDs
LDR based Power Saver for Intensity Controlled Street Light
Automatic LED Intensity Control with Human Movement
Wireless Rolling Display using LEDs Matrix
Street Light LED Energy Saver with Vehicle Movement
Intelligent Overhead Tank Water Level Indicator
Automatic Car Parking Indicator System
LCD based College notice board
Intelligent Overhead Tank Water Level Indicator
Moving Message Display On LCD with Hyper Terminal
Remote AC Power Control by Android Application with LCD Display
The multiple types of displays are used in the above electrical projects list.
9. Project-based on Automation System
In an earlier article, I shared 50 Project Ideas on Automation (PLC, SCADA, and HMI) for EEE. Now, we are sharing an electronic application-based automation system project.
Working Model of Elevator
Touch Screen based Elevator
Power Efficient Elevator System
Automatic Bottle Filling Machine
IoT based Elevator Fault Detection
Public Garden Automation System
Automatic Body Size Measurement
Home Automation using Cell Phone
Touch Screen based Home Automation system
Home Automation by Smart Voice Recognition
Long Range Spy Robot with Obstacle Detection
Zig Bee based Automatic Meter Reading System
Home Automation through P.C. with Power Saver
Fire Fighter Robotic Vehicle with Night Vision Camera
Train Automation using IR with Voice Announcement
Industry Process Automation using Programmable Switching
Speech Recognition based Wheel Chair with Elevated Features
You can use PLC and relay controller in the automation project.
10. Project-Based on Timer and Counter
Let's see the Project ideas related to the clock pulse and digital electronic counting system.
Street Light Timer and Controller
Timing Based Automatic Fountain
RTC Timing Based Automatic Fountain
Automatic Pulse Counter Display on LCD
Bidirectional Visitor Counter with Power Saver
Time Delay Based Relay Operated Load – Auto timer
Entry-Exit Counter Cum Electrical Load Management
Auto Sensor Gate Control System with Visitor Counter
Life Cycle Testing of Electrical Loads by Down Counter
Real-Time Clock Based LED Street Light Automation Using RTC and I2C Protocol
11. Project-based on Mobile and Android Application
The list of wireless communication projects can operate or control by using a smartphone android application.
Mobile Operated Pick and Place Robot
Water Irrigation using mobile for Farmer
Android Controlled Robotic ARM Project
Android Mobile-based Automatic Hover Board Machine
Railway Level Crossing Gate Operation Remotely by Android
Cell Phone based DTMF Controlled Garage Door Opening System
Metal Detector Robotic Vehicle Operated by Android Application
Remote Alignment of 3D Dish Positioning by Android Application
Cell Phone Operated Home Automation System using DATA CALL Facility
Home Automation under Wi-Fi through Android Apps from any SmartPhone
Pick and Place Robotic Arm And Movement Controlled by Android Wirelessly
Smart Phone Controlled Traffic Signal Override with Density Sensing System
Note: If you are not aware of the Android app development, it will be more challenging for you to work on these project ideas.
Do you need any help with Building Your Project?
Now, you are clear about the top and latest electrical project ideas for electrical and electronics engineering students.
Are you still finding it difficult to choose the project ideas for you? Or do you need any help with your EEE project?
I would like to help you. Feel free to drop me a message or comment below.
These project ideas for an electrical project for diploma and degree are listed by Vishvas Prajapati and curated by Dipali Chaudhari.
Project Related Topic:
I have completed master in Electrical Power System. I work and write technical tutorials on the PLC, MATLAB programming, and Electrical on DipsLab.com portal.
Sharing my knowledge on this blog makes me happy.  And sometimes I delve in Python programming.