Do you want to know the important EDA (Electronics Design Automation) tools for VLSI design system?
Actually, many electronic and telecommunication (ECE) engineering students ask me the question- What are the EDA Tools for VLSI (Very Large Scale Integration) design? Even I got the same comments asking about these tools on my post.
In this article, I am listing the topmost EDA tools for VLSI designing.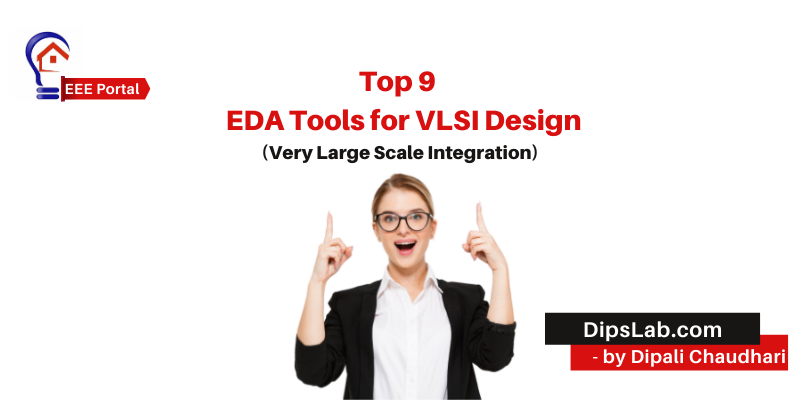 Let's understand what VLSI engineers actually do.
VLSI engineers build and implement electronic integrated circuits (aka ICs). EDA tools are essential to design these circuits.
What is EDA in VLSI?
EDA stands for Electronic design automation. EDA is also known as Electronic Computer-Aided Design (ECAD).
It is a software tool used to design the electronic circuit. EDA tools help to create multiple types of electronic circuits like an integrated circuit (IC), printed circuit board (PCB) and system on chip (SoC).
It uses multiple features like logical design, circuit schematic design, layout generation, design simulation and may more features for VSLI design.
There are multiple EDA tools available in the market.
If you are from India, there are many top institutes that offer VLSI course.
What are the EDA Tools for VLSI design?
List of Electronic Design Automation (EDA) tools:
Cadence Virtuoso
Synopsys
Mentor Graphics
Xilinx
Tanner
Electric
Silvaco
Glade
Alliance
Some of these tools are open-source and available for free. And some are licensed based for which you have to pay.
EDA tool for VLSI with License:
In the industrial environment, Cadence virtuoso, Synopsys, and Mentor Graphics are mostly used. To use these software's you have to purchase the license as they are not open source. These expensive in cost.
Open-Source EDA tool for VLSI:
For learning purposes, you can use open-source software tools like Electric, Alliance, Glade. You don't need to pay for them. You can download them free of cost.
Which Programming Language is Used in VLSI?
For VSLI design, hardware description language (HDL) is used. HDL consists of different languages such as Verilog, VHDL, and SystemVerilog.
Having a basic coding knowledge of C/C++, embedded C programming, Matlab/Simulink and scripting languages (like TCL, Perl) will be useful for learning VLSI designing.
Related Read: Free Download Electrical CAD (ECAD) Softwares
I have listed some of the popular VLSI EDA tools. If you have any experience working on these tools, let's discuss in the comment.
I have completed master in Electrical Power System. I work and write technical tutorials on the PLC, MATLAB programming, and Electrical on DipsLab.com portal.
Sharing my knowledge on this blog makes me happy.  And sometimes I delve in Python programming.