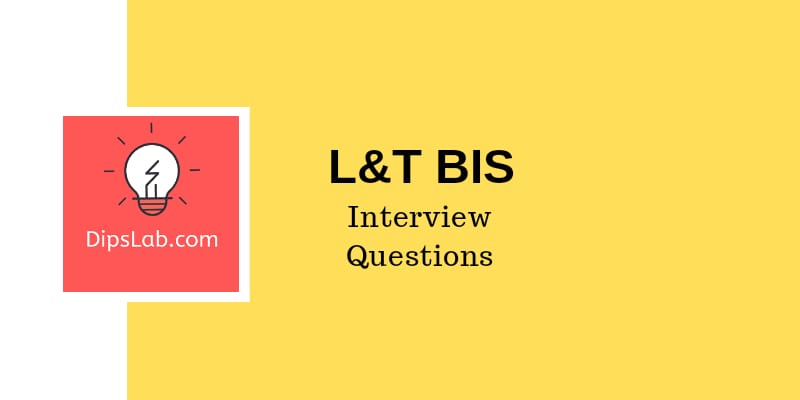 I'm sharing my experience of attending the L&T BIS interview with you. I'm from an Electrical Engineering background.
L&T is one of the core electrical engineering companies. If you want to get a job in core companies, L&T is one of the best companies to join.
Interview Format and Question Paper
Most of the time, the panel will ask you to choose your best and worst subject. Then, they will ask you the questions from the chosen best subject like an electrical machine, electrical power system, and control system.
So, if you are preparing for the L&T BIS interview, prepare these subjects very well, understand all the basic electrical concepts. They will ask your questions in depth.
L&T BIS Interview Questions and Answers
Here are some of the questions they asked me and I can remember right now.
Tell us something about the smart grid system? And what is the difference between the conventional grid and the smart grid system?
What is the dead zone fault?
What is a GIS system? How is it worked?
Which type of motor is used in the ceiling fan and why?
Tell us some Slip and Torque characteristics of Induction motor? Why it can't operate on Ns?
Why the three-phase induction motor cannot run at synchronous speed?
What is the purpose of the three-pin socket? Why is it best than two pin socket?

Which speed control method is used in an induction motor?

Some questions regarding asked- costing and estimation design of the machine, working principle of all machine, switchgear protection system.
So, you should very well prepare and familiar with these three topics- machine (working principle, characteristics, useful starting method, etc), power system (generation, transmission, distribution, switchgear, fault, and protection system) and practical knowledge of control system.
Some other Interview Questions:
The difficulty level of the questions was high, more than I expected. To answer these questions you have prepare all the basics.
To some other candidates, they also asked questions from their major projects. So revise your project.
All the Best!
---
Editor's Note: These L&T BIS interview questions and experience is shared by the candidate. We wish him all the best for his future.
I have completed master in Electrical Power System. I work and write technical tutorials on the PLC, MATLAB programming, and Electrical on DipsLab.com portal.
Sharing my knowledge on this blog makes me happy.  And sometimes I delve in Python programming.