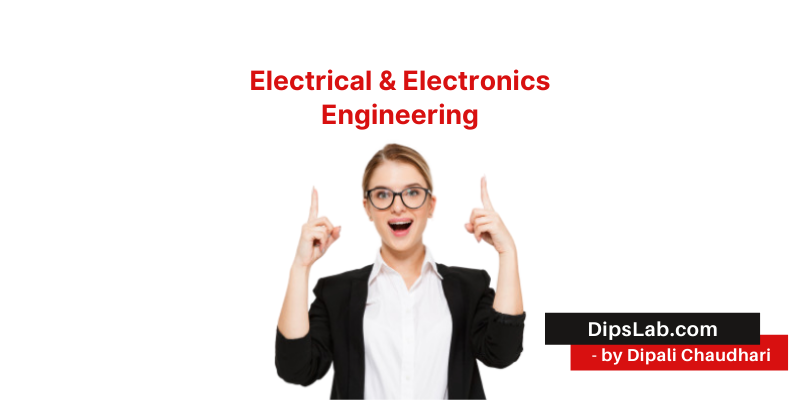 The first article is based on Electrical Measurement & Instrumentation (EMI). Here, I am describing the major concepts of electrical measuring instruments in detail.
Before starting any electrical or electronics device installations or studying electrical practicals, we should know about the measurements and its measuring instruments.
This basic knowledge will help you throughout your electrical and electronics engineering.
Read it completely.
What is Electrical Measurement & Instrument?
Basically, measurement is an essential act to determine the electrical measuring unit.
It performs by comparing an unknown quantity's unit and the standard unit of an electronic device.
Definition:
A measuring devices which use to measure or compare unknown quantity with standard quantity is called as 'Measuring Instrument'
In simple words, sometimes, the measuring instrument called as 'Meter'.
Ammeter, Voltmeter, Ohmmeter, and wattmeter are examples of electrical measuring instruments. These instruments calculate or measure the value of electrical quantities (current, voltage, resistance, electric power.
Practically, electrical measurement is a comparison between actual measurement value and standard value. This value is also called as 'True value'.
After comparing, there can be some deviation called 'Error'. The error is the deviation of the measurement value to the standard value. It is denoted by 'δ'.
Mathematically represent as,
Error, (δ)= [(Measured value)-(Standard value)]= [(Am)-(At)]
Note: When (Am)>(At), a Positive Error occurs. And when (Am)<(At), a Negative Error occurs.
Classification of Electrical Measuring Instrument
The classification of an electrical measuring instrument is based on the nature of the operation, function, purpose, uses, and many other terms.
Generally, it is classified into two categories.
Direct Measuring Instrument
Comparison Measuring Instrument
A direct measuring instrument measures the electrical unit by reading and deflection. Ammeter, voltmeter, and wattmeter are types of direct measuring instruments.
It is mostly used in engineering practical study, especially in the electrical and electronics streams. It is simple and inexpensive as compared to the comparison instrument.
It is also classified into two different parts like,
Absolute Instrument
Secondary Instrument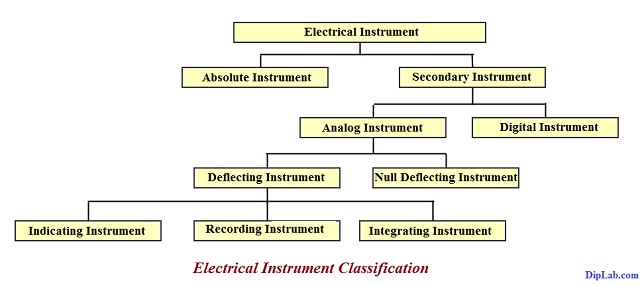 For further classification details, I have explained each type of electrical measuring instrument in another article. 
Multimeters are a popular type of electrical measuring instrument. Like its name, it works like an ammeter, voltmeter, and ohmmeter to measure current, voltage, and resistance, respectively.
The multimeter is available in two different forms, like-
Analog type Multimeter
Digital type Multimeter
In this advanced technology, both types of meters are needed as per requirement.
A signal multimeter performs all standard analog and digital meters measurement units or functions for AC and DC.
What are the Advantages of Digital Multimeter over the Analog Multimeter?
The analog type of multimeter shows the continuous signal. It detects and displays the electrical reading by using the moving pointer.
Whereas, the digital type of multimeter shows the discrete signal. And it measures and displays the numeric measuring unit or value.
So, a digital multimeter (DMM) gives a more accurate, fast response and readable digital output over an analog multimeter.
Digital meter is also called as 'Smart Meters' or 'Advance Meters'.
With this single smart meter, you can measure multiple units. Instead of buying separate meters to measure current, voltage, resistance, and so on, you buy digital a multimeter.
Read more– Advantages and disadvantages of digital multimeter over analog multimeter
Necessity or Uses of Electrical Measuring Instruments
The main functions of the measurement system are indicating, recording, detecting, controlling and testing the electrical units.
Apart from that, here are some important used.
It helps to control and monitor the operation in an electrical system.
You can find out the error in the measuring unit with the help of standard values.
In generating power stations, instruments are used for data recording, measuring the value, fault detecting, and many more purpose.
It helps to detect and protect from hazardous conditions.
Measuring instrument uses for the analysis of experimental data in an electrical system.
It is essential for displaying accurate numerical values. A digital multimeter is one of them.
Mostly, it utilizes in testing in the lab, industrial environment, science, engineering study, building an electrical and electronics project, etc.
Thus, here I have covered electrical measuring instruments with their classification and uses.
Read more related Articles:
Ready for Test:
If you are ready for an online test, click on Electrical Measurement and Instrumentation Quiz.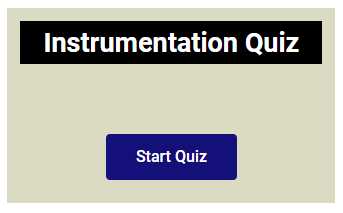 If you have any queries or points to discuss, write in the comment.
Thanks for Reading!
I have completed master in Electrical Power System. I work and write technical tutorials on the PLC, MATLAB programming, and Electrical on DipsLab.com portal.
Sharing my knowledge on this blog makes me happy.  And sometimes I delve in Python programming.