Electrical engineering is one of the most important and popular field in core engineering.
Primarily, the electrical field is related to the electricity or power for generating, transmitting, distributing, controlling, designing circuits, and the installation of various equipment or systems.
In modern days, traditional electrical technology has been transformed into advanced technology like smart grid systems, wireless communication, remote control, automation, microtechnology, nanotechnology, etc.
Based on these different technologies, electrical engineering has emerged into the different specialization.
Electrical engineering specializations involve power engineering, electronics, electromagnetic, telecommunications, control systems, network systems, signal processing, instrumentation, etc.
If you are interested in an electrical engineering course, you have the option to choose the specializations.
Let's see, what are the different specializations of electrical engineering.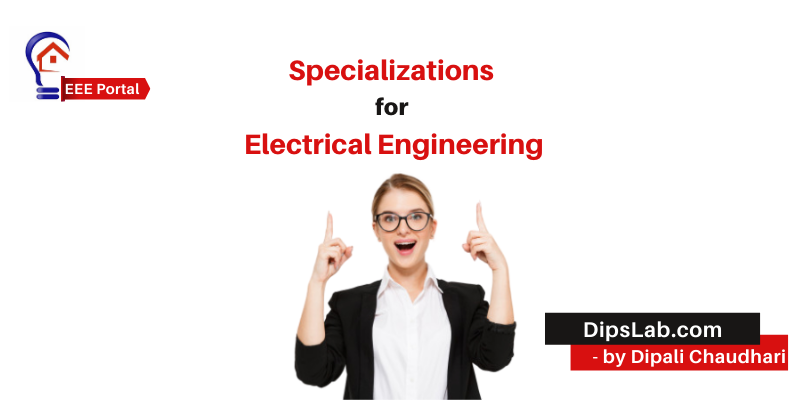 Top 21 Electrical and Electronics Engineering (EEE) Specializations
If you are planning to enroll in B.Tech., M.Tech., MS or Master courses in IIT, NIT, and other reputed institutes, you have to choose the specialization.
Let's check the best electrical and electronics engineering specialization.
Note: Not all the engineering colleges have all these specialization.
Electrical Engineering

Microelectronics and VLSI

Power System
Control System

Signal Processing System

Power Electronics

Power and Energy Systems

Electrical Machines and Drives

Communication Engineering

Control and Automation

RF, Microwave and Photonics

Integrated Electronics and Circuits

System Science and Automation

Electric Drives and Power Electronics

Process Control and Instrumentation

Automation and Robotics

Industrial Power Automation
High Voltage Engineering
Control and Computing

Opto-Electronics and Optical Communication

Visual Information and Embedded Systems
Some of these specialization, have some common subjects and topics.
There are different electrical companies offers job in different specialization.
Which Specialization is Best in Electrical Engineering (EE)?
You have multiple choices to choose any specialization for B.Tech, M.Tech, or master in engineering.
Each specialization is having its own future. And it is not so straight forward to choose the best specialization. You have to keep various things in your mind.
Here are some of the factors you should consider based on my knowledge.
You should check the subject, topics, and curriculum involved in each specialization. See if you find them interesting. In the long term, you should be happy working in this field.
In terms of career and job opportunities, power electronics, power systems, VLSI, mechatronics, automation, communication engineering are the best.
What is the Best IIT for M.Tech in Electrical Engineering?
I have been asked for this question from many of the Indian students. Through the GATE exam, you can get into the IIT for MTech, MS.
IIT Bombay, IIT Delhi, IIT Kanpur, IIT Madras, and IIT Kharagpur are top institutes for electrical engineering.
Getting into the IIT is not so easy. You have to get good rank in GATE exam.
Let's see what are the different IIT colleges known for different electrical engineering specialization.
IIT Bombay is very popular for the Power System.
IIT Kanpur is best for the Power System and Power Electronics.
IIT Madras is good for Control System specialization.
IIT Kanpur or IIT Kharagpur is best for High Voltage Engineering (HVE).
IIT Bangalore is best for the Microelectronics or VLSI.
In terms of career opportunities, the Power system and VLSI are the two highest-paying specializations. If you are interested in VLSI, here is the list of top colleges to pursue your dream.
If you don't have a problem with the specialization, you should prefer for IIT Bombay first. Other than that, if you have made your mind for particular specialization, you can choose the college based on the specialization.
Hope this will help you to choose the best specialization in electrical and electronics engineering. For any doubt, write in the comment. I would like to help you with my best knowledge.
Best Wishes!
I have completed master in Electrical Power System. I work and write technical tutorials on the PLC, MATLAB programming, and Electrical on DipsLab.com portal.
Sharing my knowledge on this blog makes me happy.  And sometimes I delve in Python programming.